Websites to Watch
Susan M. Brackney has written two great guides for artistic folks entitled: "The Lost Soul Companion" and "The Not So Lost Soul Companion".
Gala Moseevsky is a graphic artist and fashion designer at one. Author's artwork galleries suite: sketches, drawings, geometry shapes, embroidery ornaments, colored graphics. Her creativity illustrates how art and fashion can be mutually beneficial.
Kenneth W. Christian has written the first book on adult underachievement entitled:"Your Own Worst Enemy: Breaking the Habit of Adult Underachievement".
Angela Nissel wrote the "The Broke Diaries" and is currently writing for the hit NBC television show "Scrubs".
R. Scott French is a world-reknowned fashion designer.
RoadTrip Nation is coming to a town near you!
The Riverboat Gamblers are more than band... they're an experience!
Alissa Moreno and John Swihart (Sonic Gravy) are the co-writers of the theme song for the ABC television show "Hope and Faith".
Matt McCormick is an experimental filmmaker based in Portland, Oregon.
Rebecca Sanborn and her husband Ji Tanzer are taking their music to new levels in Portland, Oregon.
Jeremiah Stansbury is a dynamic visual artist based in Memphis, TN.
"Cosmic Children: Collected Kittens and Cats!" is the latest book from poet/author Michael Hathaway.
makinrent@hotmail.com
We do not claim that our suggestions will make anyone rich or famous.
Copyright 2000- 2005 All rights reserved. No content from this website maybe reproduced without express written permission from the authors.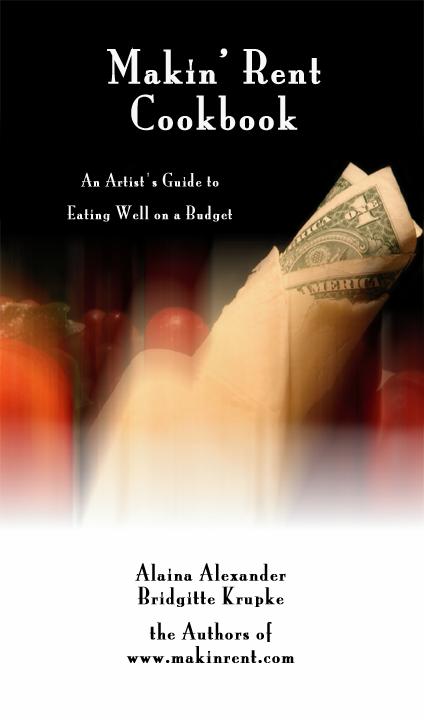 Makin' Rent: An Artist's Guide to Eating Well on a Budget. Written by Alaina R. Alexander and Bridgitte CN Krupke Illustrations by Bridgitte CN Krupke.
Featured Profiles:
Dave Wesley is combining music with other elements in Minneapolis, MN.
RoadTrip Nation is coming to a college campus near you.
Alaina's Notes from the RoadTrip Nation Interview (12-1-04)
R. Scott French is a world-reknowned fashion designer based in New York City.
Profiles: College of Santa Fe Alums
Wanna exchange links or be interviewed for the Profiles section?
Drop us a line at makinrent@hotmail.com