FOR IMMEDIATE RELEASE: Contact: Bill Murphy
July 25, 2000 AmandaHades.com
(213) 925-5235


A NEW REVOLUTION IN INTERNET ENTERTAINMENT:
AMANDAHADES.COM

Los Angeles--July-Third Floor Productions announces the launch of AmandaHades.com a narrative based website that follows the adventures of Media Hackers in the year 2025. The Hacker's mission--lead by the site's namesake Amanda Hades--pirate government and corporate controlled media broadcasts to reveal the dark secrets that have remained hidden from the mass viewing audience for years. The Hacker's adventures center on evading capture from government and rogue corporate agencies whose mandate is to protect lies, distort the truth and hide a sinister agenda. The official launch date of AmandaHades.com is slated for July 25, 2000. AmandaHades.com incorporates monthly 8-10 minute live-action QuickTime serial episodes with the unique twist of first person character-based web pages, giving fans a first hand look at how the Amanda Hades characters perceive their world.
AmandaHades.com was created by Sean Rourke, Bill Murphy and Kyle DeVriendt. Creator Sean Rourke explains, "AmandaHades.com incorporates everything you need to know about the world of Amanda Hades--character bios, video journals, equipment reports, QuickTime messages from the characters, e-mail correspondence, news media segments--everything that creates the texture of this future. All the information is there for the user to experience the intricacies of Amanda Hades' universe."
The site was created on Apple's G4 platform utilizing Apple's Final Cut Pro, Adobe PhotoShop and SoftPress Freeway. The episodes were shot on a Canon XL-1 DV camera. "Today's software and computers make it completely feasible to inexpensively create and own your own media studio and the internet provides a great distribution network. Our goal was to create an exciting experience with high production value." states producer Bill Murphy.
Producer Kyle DeVriendt adds, "The Internet is available for everyone to enjoy and we want to provide a unique entertainment site that is not the typical Internet fare. AmandaHades.com is a real grass roots approach. We use the resources we have at our finger tips. Our plan is to constantly update the site, allowing the fans an ever changing experience when they log on."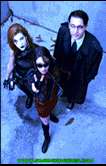 WWW.AMANDAHADES.COM
Kyle DeVriendt, Producer
Sean Rourke, Producer
Bill Murphy, Producer


AmandaHades.com ©2000
All Rights Reserved